Strictly, Bake Off and staying connected in rural Scotland
In September we went on an adventure…My wife Sally and I hired a motorhome for 12 days and drove the North Coast 500 (NC500) around Scotland.
It was amazing! Stunning jaw-dropping scenery combined with the open road, remote campsites, wild off-grid camping and wild water swimming.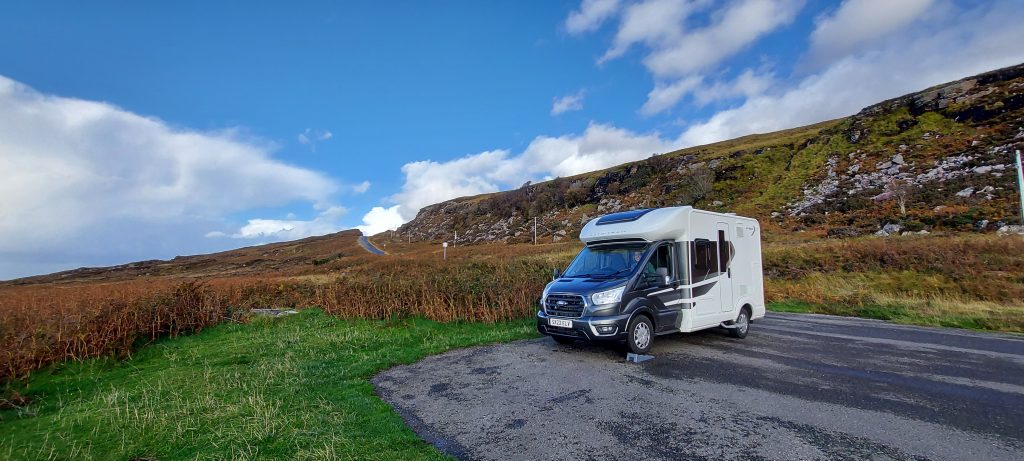 Although I was on holiday and intended to stay offline from work, I wanted to make sure I had suitable communications in case I needed to solve any issues that could arise. 
From experience, I knew that mobile phone coverage would be limited or non-existent in some parts of Scotland that we were visiting. This meant web access could be very patchy.
We didn't need to have 24/7 connectivity – which would have only been possible with a Satellite phone with a data connection. So, I decided to take one of our Robustel routers with an unlimited O2 Data SIM installed. The rationale behind the decision was that the modem's external antenna would be able to "pull in " weaker mobile signals than my mobile phone would and thus increase the coverage. That was the theory anyway!
Before we set off I made up a 12V power lead with a cigarette lighter and configured the router as a WiFi hotspot. I set up the WiFi password on our mobiles and my laptop so that they would connect immediately.
We drove up to Inverness and picked up the "Van" and quickly started to experience the mobile network "black spots" en route.
Whilst we had made some outline plans of where to stop, camp and what sights to see, we found that using Google became a bit hit-and-miss due to poor mobile coverage using our phones.
This made researching and booking campsites a bit more challenging. 
Connection on the go! 
So, I hit on the idea of using the router as a "permanent WiFi hot spot" in the van whilst driving and duly plugged it into one of the Vans 12V sockets. There was a convenient tray on top of the dashboard that the Router could be simply placed in. I figured that having an unobstructed view out of the windscreen may be helpful signal-wise.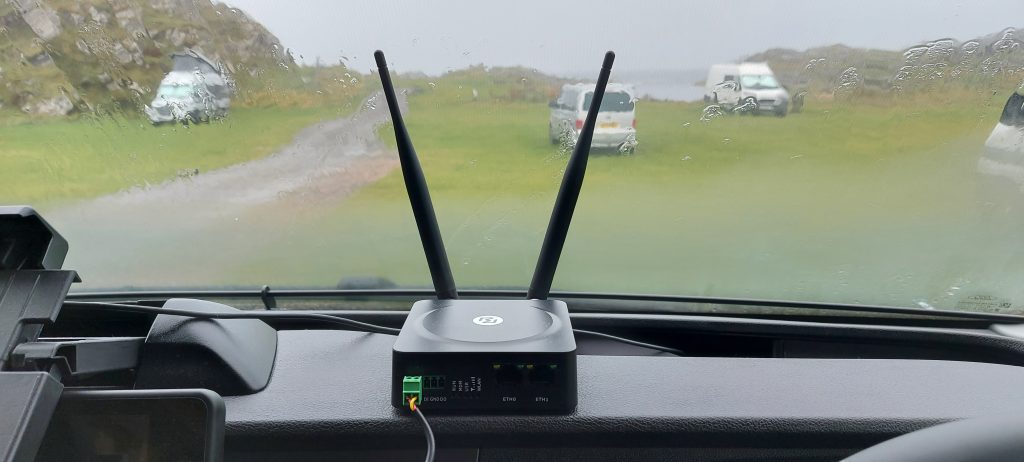 The 15cm (6") external GSM antenna immediately picked up the local O2 mobile network and the router did its "thing" by creating a hotspot. Our phones immediately had better coverage.
As our holiday progressed we still experienced mobile "not spots" where there was no signal at all. But a number of times we found locations where the mobile signal on our phones was too weak to support an internet connection. But if we switched the router on, its external antenna managed to pull in a signal that was enough to allow an internet connection and check all the important things like Facebook and Whatsapp…
No signal, no worries
On one dark windy night, we parked up in a remote car park about 5 miles from Applecross. In front of us were the islands of Rona and Raasay with the Isle of Skye about 12 miles distant. Here we had no signal on our phones at all. I powered up the router and it immediately locked on to a signal that I can only figure was from Skye.
Whilst the van was buffeted by strong winds in the pitch dark, we still managed to watch an episode of Strictly Come Dancing on iPlayer.
A photo from the trip of a lone highland cattle and Skye in the background
A few days later a similar situation arose and we watched Bake Off on catch up in the middle of nowhere somewhere on the west coast of Scotland. 
I'm not an avid Strictly or Bake Off fan. I can take 'em or leave 'em, especially on holiday. But there was some degree of satisfaction that my completely unscientific experiment had proven to effectively increase the operating range of our phones for internet access.
A solution to the dreaded Zoom connections 
Once back home, a week or two later, our home internet connection was a bit "sketchy" and could not maintain a Zoom meeting with 12 participants. The router I had used on holiday was on the desk so I plugged it in to see if it could help. Sure enough, it worked like a dream and sustained a two-hour Zoom call with video and audio with twelve other participants.
In conclusion
So, if you're addicted to Strictly, Bake Off and Zoom meetings whilst off-grid, and need a WiFi hotspot for a pop-up shop or broadband failover, it's worth considering one of our Robustel routers and unlimited data SIMs.
But regardless…keep on Dancing and Baking…