Sailing to Zakynthos with a GPS Boat Tracker
Geodesa Sail to Zakynthos with a GPS boat tracker and FollowMyChallenge
In October Geodesa tested a couple of GPS trackers in a real world situation to see how they performed.  We set ourselves the challenge to sail to the Island of Zakynthos (Zante) in the Ionian Sea, Greece.
The Boat Trackers 
We used a portable FollowMyChallenge GPS tracker and a wired in Connect It Boat tracker.  Each tracker used its own tracking platform and used a SIM card to send data to each respective tracking platform.
FollowMyChallenge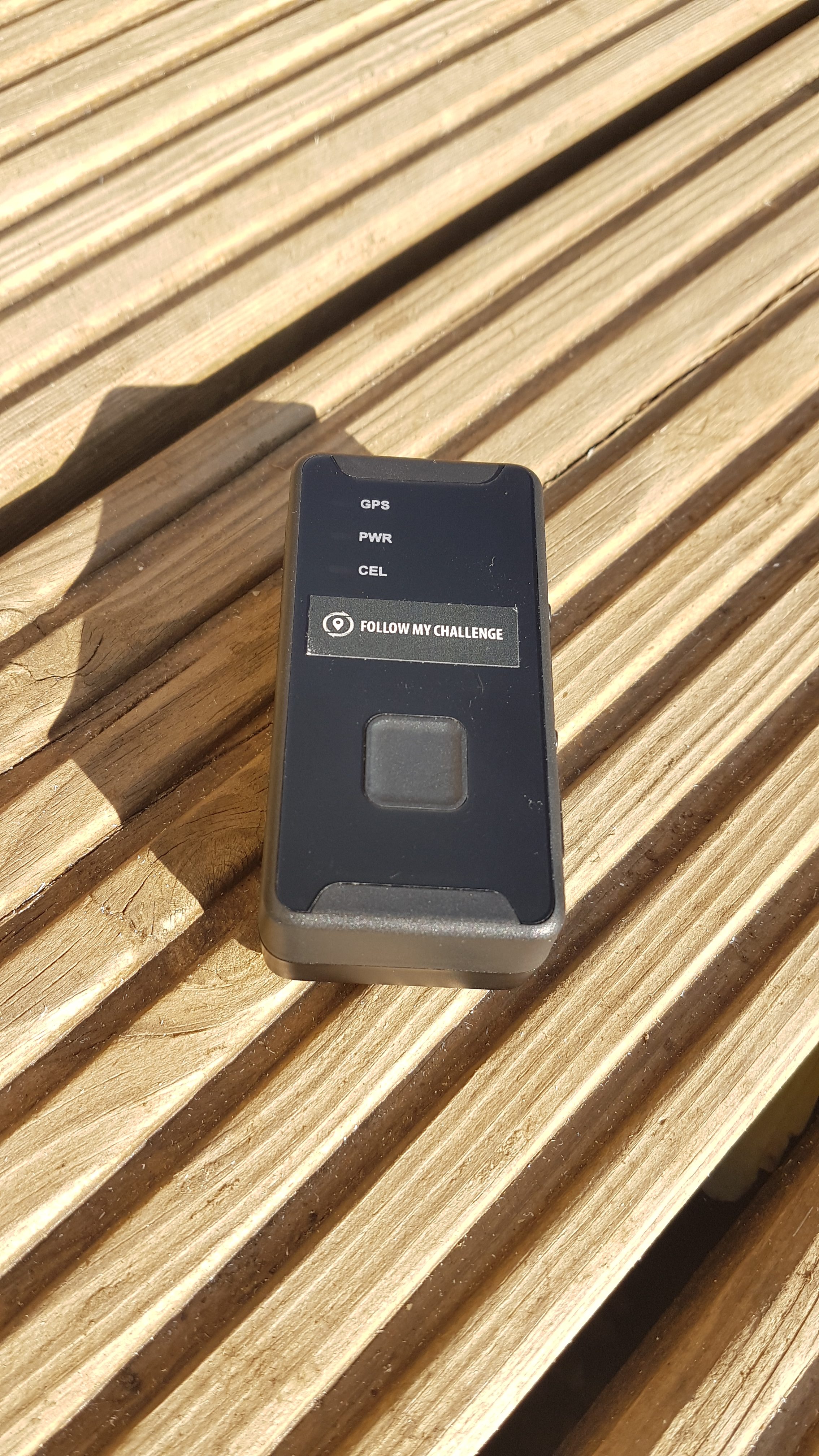 FollowMyChallenge specialise in providing tracking services for challenging activities and events and use our GeoM2M Global M2M SIM cards to connect some of their trackers to their tracking platform.
The FollowMyChallenge tracker is a battery powered "pocket" sized GPS tracker which it connects to the mobile phone GSM network to send positions to the tracking platform.  Different overlays to plot the track on can be selected.  We chose the www.windy.com weather overlay in place of the usual google maps one normally sees on tracking applications.
The tracker was placed in the cockpit table and connected to a 5 volt power supply using a USB lead.  The tracker will also run on its internal battery if required.
Connect It Boat
The Connect It Boat tracker is designed to be permanently fitted to the boats power supply.  It can be connected to other boat systems such as a 2nd set of batteries and bilge pump, enabling a number of boat systems to be monitored.  The associated app allows you to track the boat, see previous passages and set alarms for movement, ignition and bilge pump use.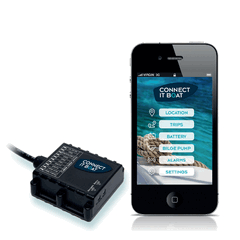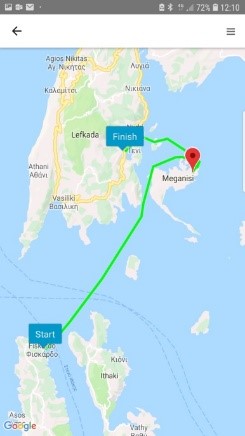 The Journey
Our plan was to sail from the Island of Lefkada, Greece to Ship Wreck Bay on Zakynthos and back within a week.  A distance of about 130 miles but with stop overs in harbours en route, in the region of 150 miles.
The forecast for the start of the week was for sun and a light wind. Stronger winds were expected from the middle of the week.  To make Ship Wreck bay, we would need to push south quickly and return to the North for better shelter around the islands of Ithaca and Lefkada.
Wednesday 17th October – Day 1
Ed (Skipper), Neil and Ollie (Crew) arrived on-board and sorted our gear our, powered up the FollowMyChallenge tracker and placed it in the cockpit table. It was connected to a 5 volt power supply using a USB lead; however it will also run on its internal battery if required. GPS fixes quickly started to show on the tracking platform.  The tracker's internal accelerometers monitor any movement and know when the boat is moving.  It was set to send a location every 5 minutes when the boat was moving.
Our first passage was around 10 miles taking 2 hours from Vliho Bay to the quaint port of Sivota., which gave the opportunity to carry out a safety brief and check the boat systems, engine and sails.
Distance 10 miles
Duration 2 hours
All trackers working well.
Thursday 18th October – Day 2
The plan was to head for Poros on Cephalonia about 30 miles to the south, with a stop off on an uninhabited island en route to look for and recover a lost anchor.
Crew Member Ollie was the official photographer and had bought along a small drone to get some aerial footage and action shots.  Unfortunately during initial flight testing the drone carried out an automatic emergency landing…into the harbour.  A quick plunge in to the water by the Skipper recovered the water logged machine!
We departed Sivota and set the sails for the lost anchor bay, but the wind was "on the nose" so we had to tack back and forth in a zig zag pattern to make any distance. The winds were light and in the "wrong" direction, so we decided to abort the anchor search and head directly to Poros.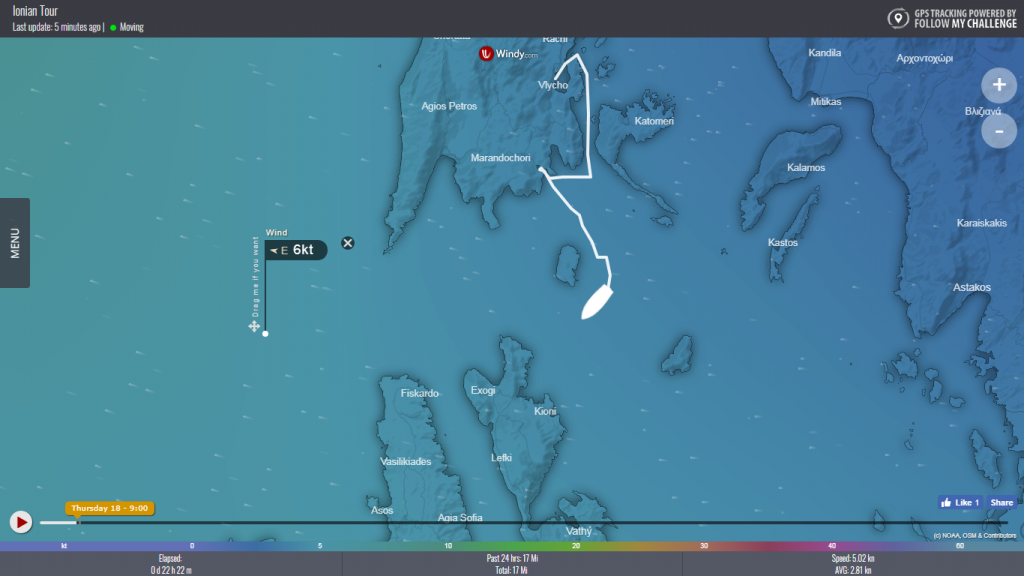 Keeping a close eye on the weather forecast, we could see that very strong winds were due in a few days' time.  So we needed to be making good progress for the next few days to ensure we weren't caught out.
The Connect It Boat tracker did not log any positions today. This was traced to a loose wire on the power supply but a quick re connection bought the tracker to life again.
Distance 30 miles
Duration 6 hours
Friday 19th October – Day 3
Today's goal was to reach ship wreck bay on Zante, stop for lunch and head to Ay Nikolaos, a small harbour on the North of Zante.
The easterly wind had been blowing for a few days which created a low swell as we crossed between Cephalonia and Zante.  The boat on the port quarter cork screwed a bit which resulted in one crew member feeling a bit green but medication and a lie down helped!
After about  4 hours, we reached the west side of Zante and arrived at Ship Wreck bay at around 14:00 just as the sun stared to illuminate the spectacular 625m high cliffs, turquoise water and white sands. We departed at around 15:30 to ensure we made port before night fall.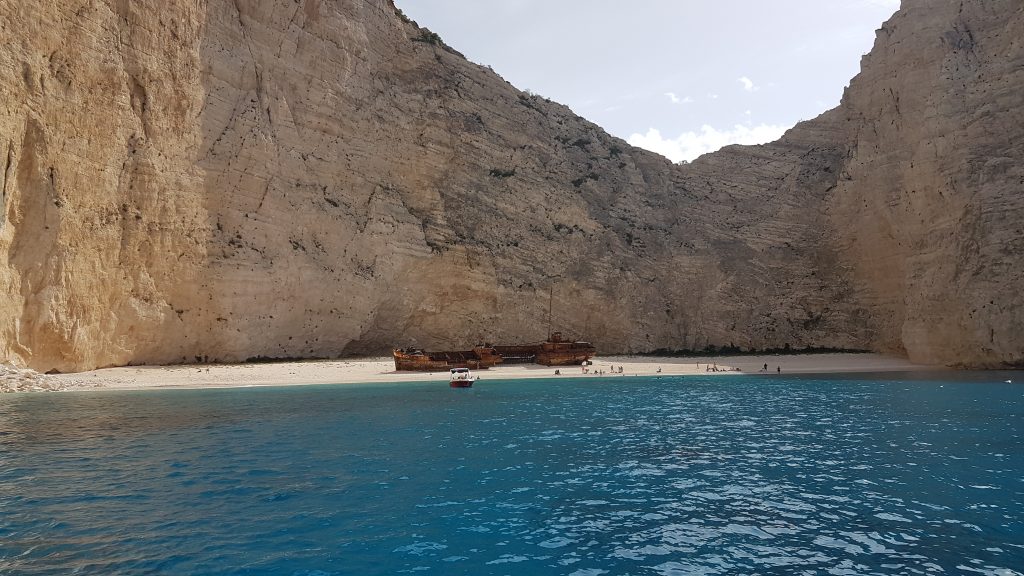 As we headed back to the northern tip of Zante, the wind freshened a little enabling us to crack off the last few miles for the day, getting us in to Ay Nikoloas at dusk.  Another long day under our belts, but the primary goal of the challenge had been reached as planned.  A couple of celebratory beers were drunk!
Distance 33 miles
Duration 9 hours
Both trackers performing well
Saturday 20th October – Day 4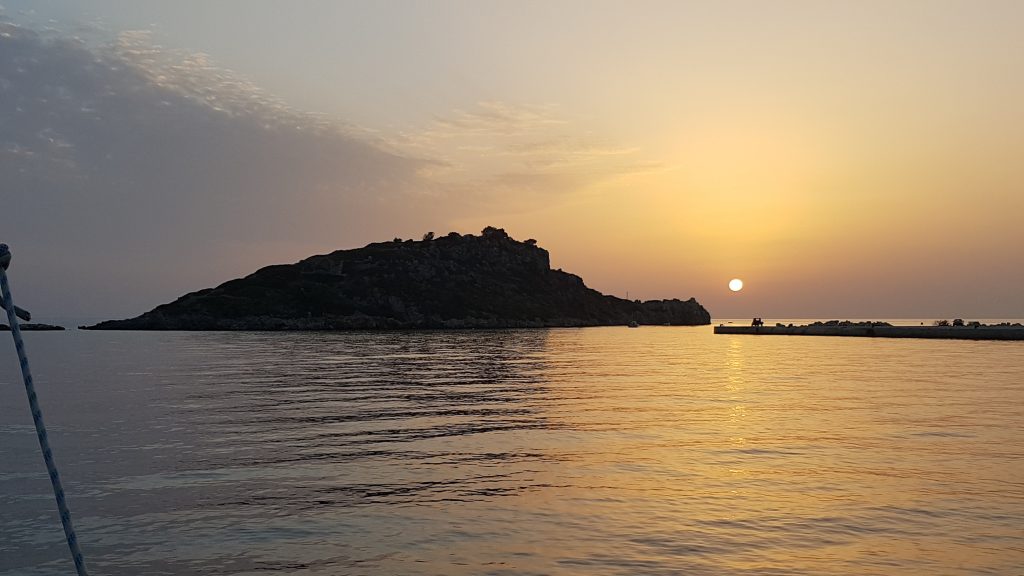 Today's Goal was to sail up to Kioni, Ithaca via "lost anchor bay". We needed to cover around 50 miles.
Lack of wind meant a long motor sail northwards…was this the calm before the storm?  After about 6 hours, a very distinct line in the water marked a change of wind; zero to 15 knots from the North West within a few meters.  This meant for some great sailing (at last) as we headed for Lost Anchor Bay.
We sailed in to the sunset over Ithaca and made port at dusk.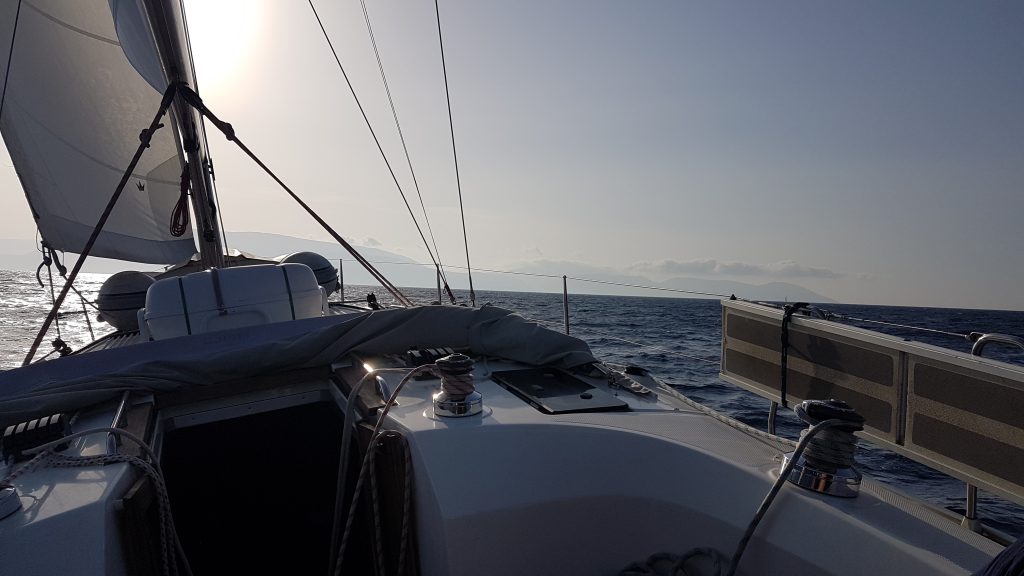 Trackers worked faultlessly.  Good connectivity even when some distance from the shore.  Family and friends back home avidly following our route
Distance 46 miles
Duration 9 hours
Sunday 21st October – Day 5
The crew had a well-deserved lay in before leaving the beautiful harbour for Kioni.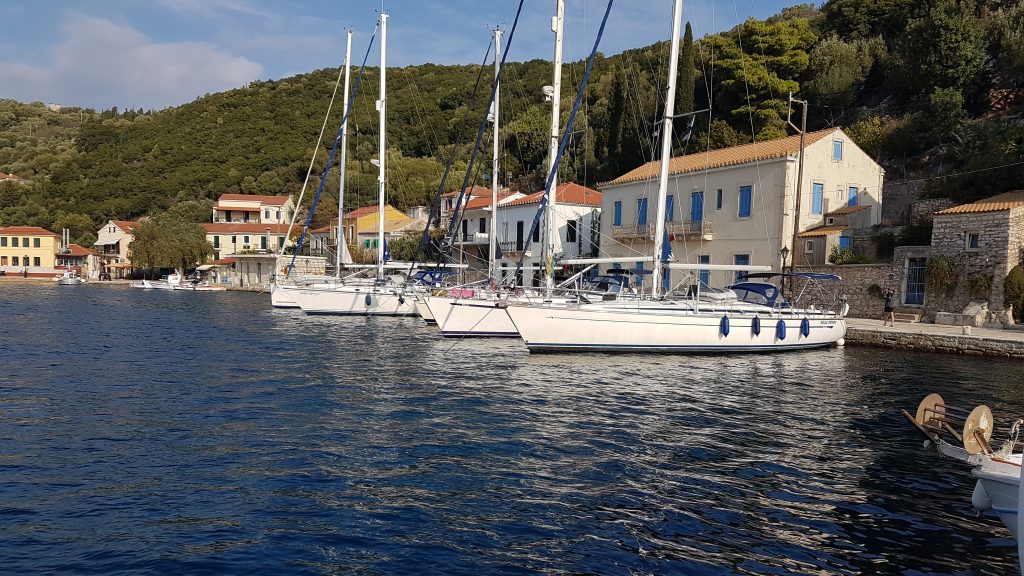 The weather was certainly on the change, with the wind now from the South East at 15 to 18 knots it made for cracking 18 mile sail northwards to Little Vathi on Megganissi, taking around three and a half hours.
Distance 18 miles
Duration 4 hours
Trackers performing well, but FollowMyChallenge missed a couple of fixes; probably due to interference from mobiles phones laid on top of it.
Monday 22nd October – Day 6
There was no urgency to go anywhere in the force 6 to 7 winds and rain. However we slipped our lines and sailed out of Little Vathi for a quick blast northward and back to port for tea.  Some great conditions!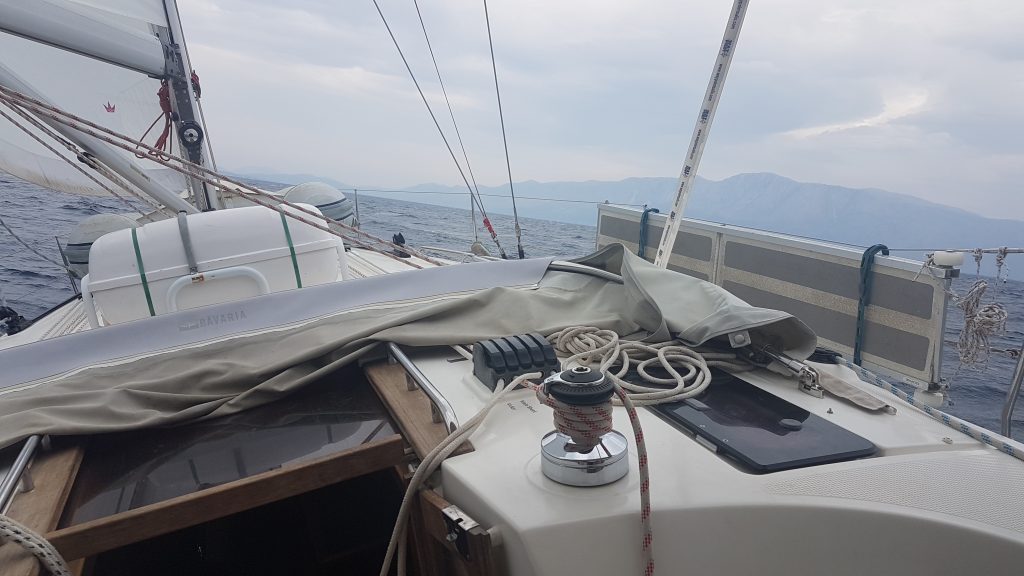 Distance 14 miles
Duration 3 hours
Tuesday 23rd and Wednesday 24th October – Days 7 and 8
The last day was spent at anchor preparing the boat for our departure and its haul out for the winter.  Our last passage was from Ablelike bay back to base in Vliho.  We set off in the dark at around 06:15, with the full moon setting behind the mountains ahead and the sun warming the morning sky before it rose over mainland Greece astern of us.  A perfect ending to a great week of testing GPS boat trackers!
Distance 7 miles
Duration 2 hours.
Summary
We achieved the goal of reaching ship wreck bay on Zante.  The trackers performed very well, but proved that they can be susceptible to interference or signal blocking if mobile phones are piled on top of them.  Whilst it's interesting to see your track on a plotter or webpage, any good sailor should know where they are.  The main benefit of the trackers was for family and friends back home monitoring our progress.
Total distance travelled 156 nautical miles
Maximum wind strength was around 22 to 24 knots
Maximum boat speed 7.9 knots